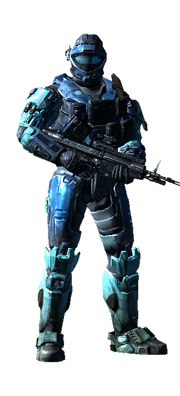 High, I'm MrFluffman. I'm a huge RvB fan, and my Freelancer agent is Agent Idaho.
I first discovered RvB when I was researching the halo games. On the wikipedia page for Halo: Combat Evolved, there was a section that told about Red vs Blue.
Ever since then, I've been a huge fan.
I'm also a writer, having created many sci-fi, super hero stories. I am the author of the Paragon-Man books, located here!, and I'm currently working on the third book.
I've also created the Wikigames Empire Wars Online and Magic & Monsters.
Me and my friends have begun working on our third-person (cover-based?) shooter, Shattered Steel. It is slightly inspired by Gears of War, but combat is more like Warhammer 40k: Space Marine. An alternate tital we are considering for the game is Heavy Metal. A wiki will soon be up.
History of MrFluffman
Birth
Little is known about MrFluffman's mysterious birth. All that is known is even then shrouded in mystery. He first appeared in Halo Machinima Wiki, where he added his own machinima. Someone asked his name. That person was banned.
Early Life
MrFluffman first gained public attention on COD Wiki's chat rooms. He vicously broke through the lies of those present, shocking them. Afterword, he would retreat their in times of stress, warmly welcomed. MrFluffman rapidly gained popularity for multiple Fanon wikis.
RvB Fanon
Finally, after taking a vacation on the CODWiki's live chat, MrFluffman joined RvB Fanon wiki, where he found his new home. Slowly making his way through the power structure, the Avenger of Awesomness joined their inner circle, becoming a favored author.
Today
In this day and age, MrFluffman enjoys semiretirement, relaxing at both RvBF and COD's live chat. It is rumored he will soon announce why he calls himself MrFluffman. On his way to his ultimate goal of becoming a Wikia staff member, he has settled down for the first time in decades.
Who is MrFluffman?
Many theries exist as to MrFluffman's true identity, here are a few:
He is a angel, who's goal in life is to save Wikia
He's an ordinary kid enjoying his Golden Age
He is an AI constructed by Wikia
He is actually a member of Rooster Teeth (Burnie Burns, perhaps?)
He is a alien, intergrating in human society
And much more.
My favorite pages
Community content is available under
CC-BY-SA
unless otherwise noted.