Red vs. Blue: Insurgence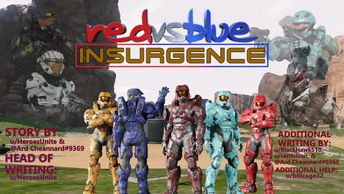 Red vs. Blue: Insurgence - Story by: u/HeroesUnite and Ard Cheannard#9369.
This is not endorsed by Rooster Teeth in any way. Views, opinions, thoughts are all my own. Rooster Teeth and Red vs. Blue are trade names or registered trademarks of Rooster Teeth Productions, LLC. © Rooster Teeth Productions, LLC.
INFORMATION
Red vs. Blue: Insurgence, is the upcoming and final arc for Red vs. Blue. Taking place one month after the events of Season 17, the reds and blues find themselves doing what they do best... Standing around, talking. All the while, the senator for the United Earth's Government, enacts a plan to disband the UNSC and hold them accountable for their many misdeeds and flaws. Her plan? To replace them with her own military force, one much more powerful and 'just' than the UNSC, all the while powerful figures and foes from the past lurk the corner, drawing the Reds and Blues into a story full of death, lies, deceit, and political conspiracy...
CHARACTERS
EPISODES
The episodes are as follows:
Community content is available under
CC-BY-SA
unless otherwise noted.