'Briar Rose'

The Briar Rose UNSC Training Facility

Planet

'UNKNOWN'

Status

Operational
The 'Briar Rose' UNSC Training Facility introduces the Rookie. The facility was built to train new recruits to fight under hard conditions. The establishment is located on an unknown and classified location. It makes it's first and only appearance in Killed in Action.
Overview
While the location of the training facilty is unknown, the terrain around the base is described. The climate is generally quite humid. There is much rock and dirt around the base. The net coevering over the firing range protects the soldiers from the harsh conditions. It is also shown that out one of the exits there is a wooden fence that cuts out into public outskirts. The facility itself is shown to house a firing range, soldier barracks and a reception. Presumably there must also be living quarters and a kitchen as the facility is designed to appear much like a boot camp for the UNSC.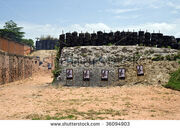 Role in Plot
Attacked by The Insurrection
For weeks an Insurrection Elite named Girlie had been infiltrating the base and observing recruits in hopes of being able to kidnap one and convert him or her to join the Insurrection. Eventually she chose a rookie who was being bullied by one of the facilities dril sargeants. She led an offensive by herself, killing several UNSC soldiers in the process. She manged to take the Rookie and escape where she was met by fellow Insurrectionist Archer who was driving an evacuation vehicle (warthog). On the turret Girlie gunned down the Drill Sargeant.
Trivia
The pictures above have been taken from: Call of Duty: Modern Warfare 2, & An Iranian Firing Range.

Agent_Rhode has stated that unfortunately neither of these images accurately reflect the image that he had in his head when he created the scene,
Community content is available under
CC-BY-SA
unless otherwise noted.