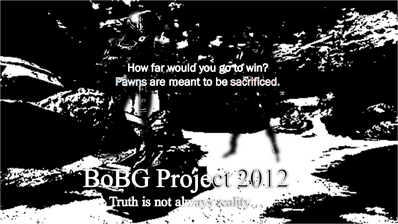 Battle of Blood Gulch: Reunion
is the final season of the main BoBG storyline. It is quite different from previous seasons, as the number of authors has thinned, and several new characters are introduced.
Writer's List (In ORDER!!)
Unlike previous seasons, authors will not take turns, but will instead add bits to different episodes. The participating authors are:
Zeon1
Sniper
Cypher
Cyrus
Jonsey
PD
Theme Song
There are multiple themes, for different parts... here is the first.
Episode List
A mysterious new character begins recruiting the crew following four years. However, he doesn't want them for the reason they expect.
The bombardent wipes out most Pfhor forces on the planet, but it leaves many UNSC soldiers dead... and some are still alive, hiding in a bunker that may contain nuclear weapons. The team gets sent to the surface, to finish off the Pfhor once and for all.
While Krayson and the rest of the UNSC attempt to dig up the group, several old friends return, and the group has some fun dreaming...
Community content is available under
CC-BY-SA
unless otherwise noted.